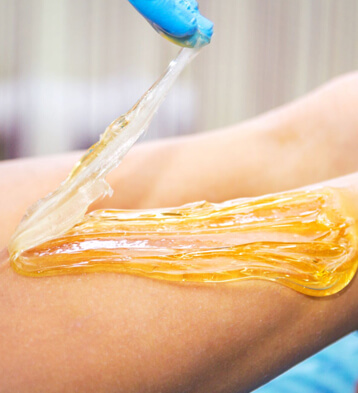 WESTEND LASER CLINIC FOR SUGARING IN OTTAWA
While the expert team at Westend Laser Clinic have decades of experience we can't claim to have invented sugaring. This natural alternative to waxing is thought to have originated back in Ancient Egyptian times. We'd like to think "Cleo" would have used our state of the art facilities here in Ottawa!
WHAT IS SUGARING?
Sugaring is a natural alternative method which still removes the hair by the roots, leaving the skin soft and smooth for weeks. It is made from pure natural ingredients in to a pleasant paste. It is 100%  safe to use on any skin and hair type, including most varicose veins. A benefit of sugaring is that future hair growth is finer and more sparse for those who undergo regular treatments.
WHAT IS THE DIFFERENCE BETWEEN WAXING AND SUGARING?
Unlike waxing, sugaring uses natural ingredients such as sugar, water, lemon juice and natural oils. This results in less allergies and skin sensitivity issues.
Sugaring is applied as a warm paste rather than a hot wax solution, which many people find more comfortable.
Waxing is traditionally good for longer or thicker hair removal, however for those who don't want to wait for the hair to grow too long, Sugaring is a great alternative.
Contact Westend Laser Clinic in Ottawa today to book your consultation or appointment at 613-727-2620