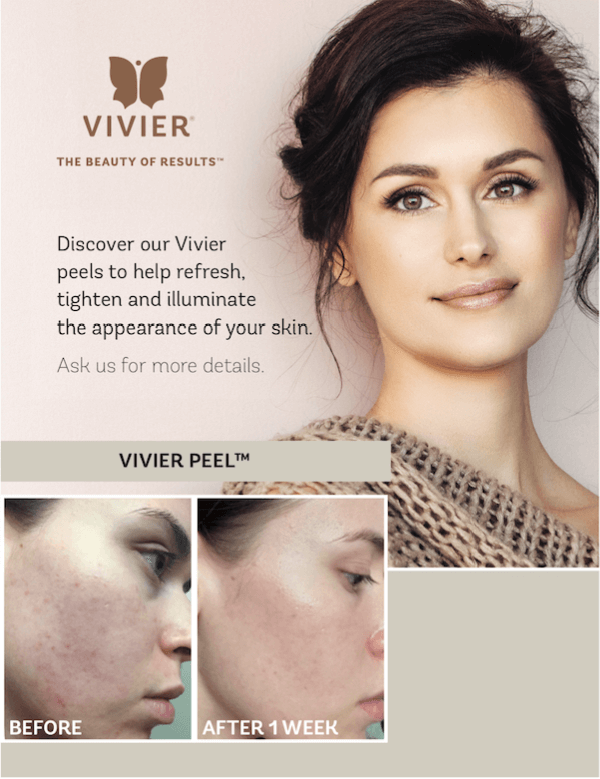 AFA CLAY CHEMICAL PEELS AT WESTEND LASER CLINIC IN OTTAWA
Many of the customers here at Westend Laser Clinic, call this AFA Clay Chemical peel a non-surgical facelift. If you are looking to reverse the signs of ageing fast then this treatment will appeal to you.
WHAT ARE AFA'S?
AFAs are a unique, patented skincare technology based on the amino acids of your skin's natural moisture system. This AFA Clay Chemical Peel technology produces results quickly without the harsh dryness and irritation of some alpha hydroxy acid treatments.
The  AFA Clay Peel is a 2-step non-surgical process that immediately creates a softer, smoother and more youthful looking appearance after your first visit. For the best results we recommend a short regular series of AFA Clay peel treatments. Don't worry if it all sounds a little technical, one of our trained technicians will be happy to answer any questions you may have.
THE VIVIER PEEL
The Vivier Peel is a unique treatment that can do wonders for your skin. It contains key therapeutic ingredients to improve your complexion, giving it a healthy glow, that you will be able to see instantly! Our clients often schedule their peel a couple days prior to a big event, so they can look their best!
10%  Lactic Acid : helps improve moisture levels in overly sensitive or dry skin.
2% Salicylic Acid: Helps Ease acne, reduce excess oils, improves texture, and ease post inflammatory hyperpigmentation. It also encourages removal of the debris that can clog your pores and dull the upper layer of your skin.
14% Resorcinol: helps ease inflammation, redness and acne
What does a vivier peel do for you?
Stimulates elastin and collagen production – for smoother, firmer skin
Minimizes redness
Tightens pores
Increases suppleness
Reduces hyperpigmentation for more even toned skin
Gives you a lovely glow!
TX JESSNER PLUS
• 14% Resorcinol USP
• 14% Lactic Acid USP
• 14% Salicylic Acid USP
Designer Peptides, Panthenol (decreases downtime) Safe, non-invasive, and self-neutralizing formula. Unique professional resurfacing procedure that safely provide controlled exfoliation of damaged skin. Ideal for aging skin, age spots, enlarged pores and dull, lackluster complexion. Balances clients' desire for quick results and tolerance for downtime
Professional resurfacing procedure.
Contact Westend Laser Clinic in Ottawa today to book your consultation or appointment at 613-727-2620