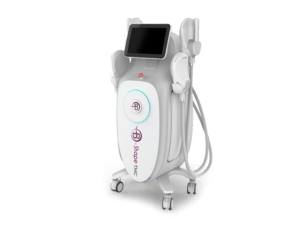 Welcome to B-Shape T. M. C.
Our ultimate goal is to provide the confidence and well-being that come with a healthier body
B-Shape T. M. C. is a non-invasive treatment for body contouring that combines fat removal with muscle building. It consists of sending electromagnetic pulses in a given target area, resulting in what is called 'supramaximal' contractions. Our treatment is perfect for women and men who wish to remove excess fat in their stomachs in record time as well as redraw and tone their abdominal or gluteal muscles.
Expect Magical Results with B-Shape T. M. C.
Any aesthetic device company cannot testify to being beneficial without phenomenal results. We are certified and recognized by Health Canada, making B-Shape T. M. C. your trusted and unmatched partner for effective body care procedures in Canada.
We can attest to delivering a treatment that is innovative and non-invasive, paving the way for a rapidly advancing industry. Our treatment provides long-term results quickly, and we can confidently say there is truly nothing like the B-Shape T. M. C. – take a look at the life-changing outcome it has had on so many people!
Innovation and Well-Being in One
B-Shape T. M. C. is a never-before-seen solution in the aesthetic industry that is fast, effective, and long-lasting. When you choose our treatment, you also choose a team whose mission is always to promote healthy living as well as ultimate well-being and body care in Quebec and Ontario. That's why the B-Shape T. M. C. treatment works best in tandem with a balanced lifestyle of staying active and eating well.
Please contact us for a free consultation : 613-727-2620